UAE-IX reaches new traffic peaks almost daily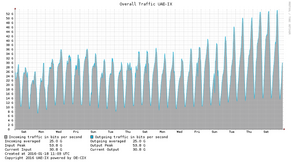 On January 13, UAE-IX reached a peak in traffic of more than 50 Gigabit per second for the first time. Our recent increase in traffic is considerable and is a result of UAE-IX's enormous growth in 2015.

Connected content like Twitter, Netflix, Akamai and Google account for a lot of this traffic as well as local content like Intigral, Selevision and Bamboozle. Soon, MBC with its Shahid platform will be available for peering at UAE-IX, so further growth in traffic is guaranteed this year.

Almost 65% of the GCC access user base is connected to this content directly by peering through their operators (like Du, Zain Group, STC, Batelco, Viva, Gulfnet, Vodafone Qatar etc.). Users of these networks benefit from low latency as the traffic flow is no longer going back and forth to Europe, but is exchanged directly in the region.

Especially gaming (e.g. Valve with games like Dota and Counterstrike) and streaming users are already able to see the difference between using a peered network instead of using a network that is still using the old approach of exchanging traffic outside the region, e.g. in Europe or Singapore.

The latest traffic peak was reached on January 17: 53.78 Gbit/s. We look forward to reaching the 60 Gbit/s mark!