UAE-IX: Record Peak Traffic and Nomination for Global Carrier Awards 2014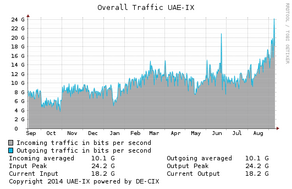 After the first Arabic content came to UAE-IX in June, traffic is has grown constantly at the first carrier- and data center neutral Internet exchange in the Middle East. And on Tuesday, September 9, 2014, peak traffic hit the magic mark of 20 Gigabits per second and almost reached even the 25 Gigabit per second peak traffic mark.
After a sensational start in 2012, now close to 30 networks now exchange their traffic at UAE-IX and keep local traffic local; UAE-IX has constantly extended its reach.
UAE-IX is fully managed by DE-CIX, provider of premium IX services and operator of several Internet exchanges worldwide. Capacity Magazine announced on September 10, 2014, that DE-CIX is shortlisted with UAE-IX for the Global Carrier Awards 2014 as Best Middle Eastern project. The nomination proves once more the growing importance of building and operating regional Internet exchanges to keep local traffic local.
The winners will be announced at the Global Carrier Awards ceremony and gala dinner on November 4, 2014 at the Okura Hotel in Amsterdam, during Capacity Europe.